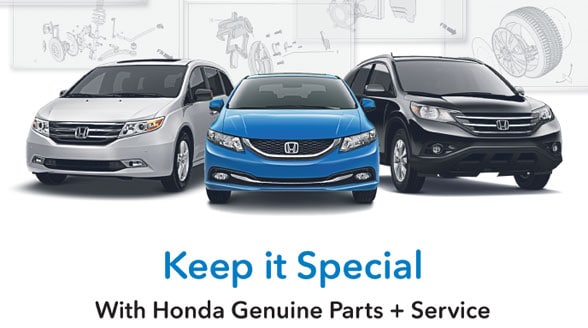 Genuine Honda Parts and Accessories near Kinston, NC
At Barbour Hendrick Honda Greenville, you can count on us to be your total Honda resource in the Kinston, NC area. Whether you need a new or pre-owned Honda vehicle, expert Honda service, or Honda parts, we're able to provide it all under one roof.
Though Honda vehicles are expertly engineered and known for being reliable and durable for the long-haul, you'll likely need to replace a few parts along the way to keep everything running smoothly for years to come. When this arises, it's important that you use genuine Honda parts for your repairs and replacements. Factory-authorized parts were made specifically for your Honda model - not to fit the swaths of other cars out there and your Honda. Genuine parts come with a level of quality assurance and extended warranty coverage that you simply can't get with after-market parts.
Thankfully, ordering parts or accessories for your Honda vehicle is simple and easy with our parts center atBarbour Hendrick Honda Greenville.
How to Order Genuine Honda Parts
Our Honda parts center near Kinston, NC is well-stocked with a variety of parts and accessories that our customers commonly need. If you know what you need for your car, you can and we'll be in touch to confirm the stock status of the part that you need. If you don't know what you need, you can contact us or contact the service center to talk through the necessary repairs for your car. We carry parts for a wide variety of Honda models and year models, so there's a good chance that we have what you need for your repair. However, if we don't currently have the part in stock, we'll order it for you and have it shipped to the parts center as soon as we can so that the service center can get started on your repair as soon as possible.
Find Honda Parts and Service near Kinston, NC
Finding genuine Honda parts and accessories for your Honda vehicle is a breeze when you're with us at Barbour Hendrick Honda Greenville. Our team will assist you through the entire process and coordinate with the service department so that your repairs and accessory installations are seamless and efficient. Fill out our parts request form at Barbour Hendrick Honda today.